Has your family dreamed of a Tennessee Mountain Christmas? No doubt the area provides a wonderful opportunity for a family to come together and have an excellent, memory making holiday in the Smoky Mountains. Where do you begin to plan a Smoky Mountain Christmas in Wears Valley?
Choose a Christmas Cabin in Wears Valley
Our suggestion is that you begin with your lodging accommodations. There are many cabins of all sizes for individuals, couples or families of all sizes. Cabin companies we can recommend for cabin rental would be:
www.cabinsinthecloudscabinrentals.com
www.smokymountaindreamvacation.com
www.heartlandrentals.com
www.smokymountainvacationrentals.com
Once you have determined your lodging you can begin planning the experience. Do you prefer to spend most of your time with the family, enjoying the cabin and the natural surroundings? Do you want to get out and experience the attractions and watch the people who are all here to celebrate in the Smokies? You set the tone for your vacation. Possibly a bit of each is a great idea. Plan for crowds. This is a very busy time in the Smokies, so attractions and restaurants will be busy. Most cabins are completely outfitted for chili cooking and casserole fixing right there in the cabin.
You will find the area to be completely decorated for Christmas. The Wintefest Events have been celebrated for over 25 years now and continue to delight the guests to the Smokies. The beautiful Christmas lights can be found throughout Sevierville, Pigeon Forge and Gatlinburg all along the parkway that carries you through each community. There are Light tours to consider but you may also discover them on your own.
Plan Ahead!
Think ahead for groceries! Things like hot chocolate, popcorn, pizza and chili may make for a great experience and a budget saving move in the cabin. Pigeon Forge offers several grocery choices. Kroger on Wears Valley Road is the most convenient, Publix on the Parkway is very close and full of delightful choices and if you prefer a Food City, we also have a Food City on Teaster Lane in Pigeon Forge. If you prefer to shop in Sevierville you will find these choices along with an Aldi's.
Photography is often a consideration for family get togethers. We know how hard it is to get that family together don't we. This Facebook Group is a good resource for all of the photographers in the area. There are many who do mini sessions and then those who do more formal portrait settings and Smoky Mountain shoots, so use this resource to find the right match for you!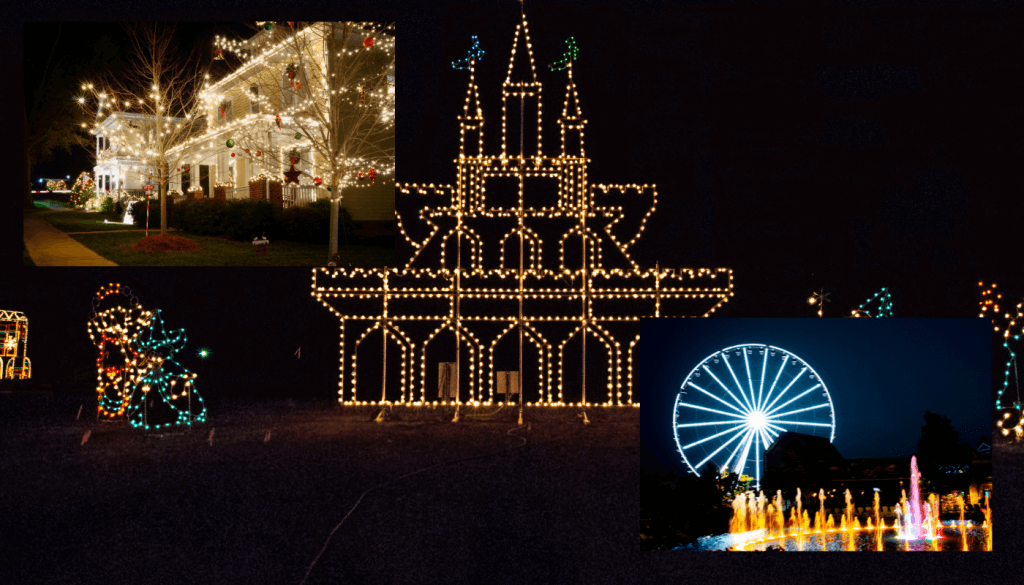 There are many ways to get in to the seasonal spirit in the area. Beginning December 1st if Gatlinburg's Winter Magic and the fun that comes with the performers on the street downtown. The Annual Fantasy of Lights Christmas parade is a tradition for many and begins at 7:30 in Gatlinburg on Dec. 1st also. Thinking about New Years? Maybe it would be fun to attend the Fireworks and Ball Drop that happens each year in Gatlinburg.
Pigeon Forge has the Christmas Shows that are sure to delight. There are many to choose from and each one offers a variety of Christmas experiences for all ages. The Winterfest Lights are a joy. Drive the parkway or maybe you woud enjoy the Wonders of Light Walkway at the Greenway Walkway that is near The Island in Pigeon Forge.
Then, the return to your peaceful, beautiful cabin in the mountains in Wears Valley will truly be a delight. We hope that you might enjoy a Tennessee Mountain Christmas here in the Smokies soon!