Enter the Great Smoky Mountain National Park through the Metcalf Bottoms entrance on Wears Valley Road. Line Springs Road will deliver you to the Metcalf Bottoms Picnic area where you will find a beautiful rushing stream, picnic tables, walking areas, wildlife, and more. It IS the "Jewel of the Smokies" for sure in Wears Valley! Fishing, swimming, and picnic areas abound near your Wears Valley Getaway Cabin and should definitely be considered as part of a family reunion, summer family vacation, or any other type of Smoky Mountain itinerary.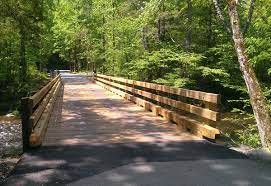 From Metcalf Bottoms, you will be able to access Little River Road which can take you to Townsend, Tennessee, Cades Cove, the Townsend Wye, and Gatlinburg, Tennessee. Visit Metcalf Bottoms at Line Springs Road, off Wears Valley Road in East Tennessee.
Metcalf Bottoms is a hidden gem in Wears Valley. Metcalf Bottoms is one of the many entrances to the Great Smoky Mountain National Park and it is easily accessible from Wears Valley Road. Visiting Metcalf Bottoms is an excellent way to enjoy the National Park. It is a beautiful area with walkways, historic areas, rivers, picnic areas, and more. From Metcalf Bottoms you can access Little River Road and Cades Cove, Townsend, and Gatlinburg, Tennessee.
Metcalf Bottoms is a part of the Great Smoky Mountain National Park which is home to nearly 1,500 black bears along with a large variety of other species of wildlife. Some of the 90+ historical structures in the National Park are found at the Metcalf Bottoms area of the park. Look for the Little Greenbrier School and Walker's Sisters cabin! Find fishing, hiking, historical buildings and wildlife viewing, and more when you visit Metcalf Bottoms in Wears Valley (a fishing license is required for fishing).
There is a picnic pavilion available for rent through www.recreation.gov with space for up to 70 people. This area also has parking, multiple grill areas, and walkways.